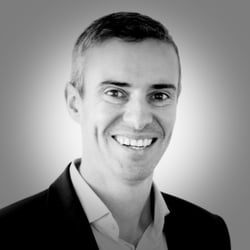 Erwan Kerebel
Sr. Director of Product Management
Salesforce

Chris Haussler
Sr. Director of Product Management
Logik.io
Check out the on-demand webinar
Not all CPQ solutions are created equal, and not all CPQ solutions are right for YOUR business. The implications of choosing the wrong CPQ solution can cost you tremendously over the years if you don't choose right:
Custom development and workarounds to make the solution fit your needs
Costly, tedious, and constant system maintenance to keep up with evolving business needs
Luckily, we have two EXPERTS speaking on this webinar who have seen hundreds of CPQ evaluations, and been part of hundreds of implementations of all of the leading CPQ platforms out there.
Erwan Kerebel is the Sr. Director of Product Management for Salesforce Revenue Cloud where he currently helps customers buy and implement the best CPQ solution for their business, and was previously doing the same at Apttus (now Conga).

Chris Haussler is the Sr. Principal Product Manager here at Logik.io where he also works with customers to help deliver the perfect configuration experiences for their business. Chris previously held product management and professional services roles at BigMachines and Oracle CPQ.
Join this webinar to hear from both of these CPQ veterans and experts to learn:
Key considerations you need to make when looking to switch your CPQ solution
Most common mistakes they've seen businesses make when selecting a CPQ platform
How to make sure you're getting the right solution for your specific business needs
Best practices that best-in-class CPQ implementations have in common