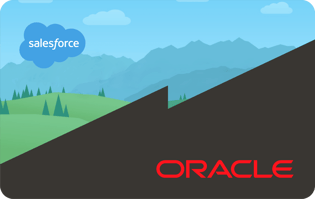 Tracking Trajectories:


A Comparative History of Oracle and Salesforce
An Inside Look by Ex-Oracle and Ex-Salesforce Professionals
"In one fell swoop, Ellison went from Benioff's starting mentor and benefactor to biggest adversary, and a permanent fracture formed in both the personal and professional relationship he was to hold with Benioff moving forward."
The intertwined history between the founders of Oracle and Salesforce is…
Complicated.
From the very beginning, Software Development Laboratories was a trailblazer on the frontier of up-and-coming software companies. Formed In 1977 by Larry Ellison, the global hit would quickly become the largest database management company in the world. Within the first decade, they would garner a whopping $55 million in revenue.
This company would soon become known to the world as Oracle.
Since the formation, much has changed after the fallout between the two leaders in the late 90s. You may know bits and pieces of this story, but you haven't heard it like this.
To learn the full story on the rise of Oracle and Salesforce, as told by ex-Oracle and ex-Salesforce professionals, get the resource.